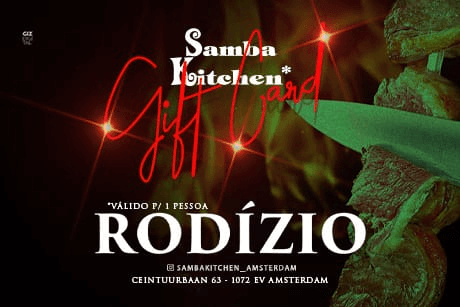 Restaurante Samba Kitchen Amsterdam
23/12/2022 até 23/12/2023
Samba Kitchen - Amsterdã, AMS
Parental Rating: LIVRE
Presenteie alguém especial com uma experiência inesquecível!
Seus amigos e familiares vão adorar receber um Gift Card do Samba Kitchen de presente.
Isso porque com um Gift Card na mão eles podem aproveitar o melhor rodízio da região.
Compre agora, indique o e-mail ou telefone da pessoa que você deseja presentear e pronto.
Samba Kitchen
Ceintuurbaan 63, 1072 EV Amsterdam, Países Baixos - Amsterdã, AMS
O Gift Card só é válido nas dependências da Samba Kitchen e não pode ser trocado por moeda corrente de qualquer espécie.
Os convites são vendidos com códigos de barras para controle.
Não será devolvido troco do Gift Card.


Não se efectuam trocas ou devoluções nas vendas efectuadas no site. O preço dos bilhetes inclui IVA à taxa legal em vigor. Sobre os valores da transacção acresce o respectivo custo de operação mais IVA à taxa legal em vigor, consoante o evento escolhido. Os produtores são os responsáveis pelos conteúdos (textos, fotos e sons) dos respectivos eventos.


There are no exchanges or returns on sales made on the site. Ticket prices include VAT at the legal rate in force. The respective transaction cost plus VAT at the legal rate in force is added to the transaction values, depending on the chosen event. The producers are responsible for the contents (texts, photos and sounds) of the respective events.

---
By proceeding with the purchase you confirm that you have read and are in accordance with the terms of use.
Terms and Conditions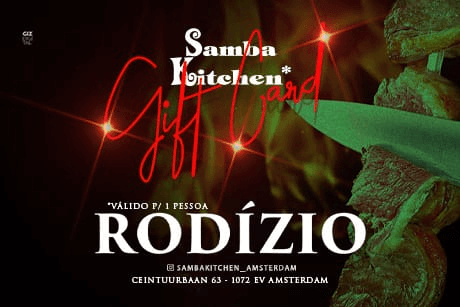 Restaurante Samba Kitchen Amsterdam
23/12/2022 até 23/12/2023