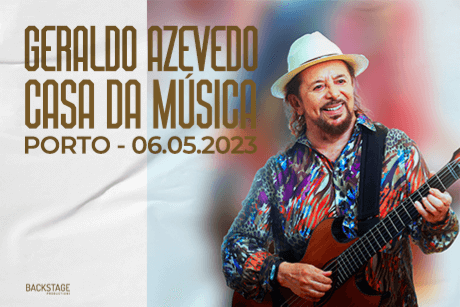 Geraldo Azevedo
May, 06 - Saturday 09:00PM
Casa da Música - Porto, POR
Parental Rating: M/6
Horário de início do Espectáculo: 21h00

Horário de abertura dos portões: 19h00




Com uma carreira artística de mais de 50 anos, o cantor, compositor e violonista Geraldo Azevedo lançou diversos sucessos que estão presentes na memória afetiva de várias gerações. Acompanhado de seu virtuoso violão, Geraldo Azevedo percorre essas cinco décadas de composições, apresentando desde os primeiros sucessos, como"Táxi Lunar"(Geraldo Azevedo, Alceu Valença e Zé Ramalho),"Bicho de Sete Cabeças"(Geraldo Azevedo, Zé Ramalho, e Renato Rocha), e"Caravana", com canções de seu novo trabalho com Chico César, o show"Violivoz". Como excelente violonista, cantor e compositor Geraldo Azevedo criou em suas canções uma mistura única entre as sofisticadas harmonias da bossa-nova e os ritmos pulsantes da música latina, com um toque urbano e outros ícones da cultura nordestina que cantam o folclore de sertão brasileiro.

Nesta turnê, Geraldo Azevedo traz um show intimista que emociona e faz você cantar junto, da primeira à última música."Gosto muito desse formato, porque tenho liberdade de repertório. Se eu tocar uma música romântica e ver que o público gosta, logo coloco outra. Mas se eu ver que o público quer dançar, eu toco um forró , assim eu vejo todo mundo dançando", explica Geraldo Azevedo



With an artistic career spanning more than 50 years, singer, composer, and guitarist Geraldo Azevedo has released many hits that are present in the sentimental memory of several generations. Accompanied by his virtuous guitar, Geraldo Azevedo walks through these five decades of songs, presenting early hits, such as"Táxi Lunar"(Geraldo Azevedo, Alceu Valença, and Zé Ramalho),"Bicho de Sete Cabeças"(Geraldo Azevedo, Zé Ramalho, and Renato Rocha), and"Caravana". An excellent guitarist, singer, and songwriter Geraldo Azevedo has created his own unique blend between the sophisticated harmonies of bossa-nova and the pulsating rhythms of Latin music, with an urban touch.
In this tour, Geraldo Azevedo brings an intimate show that thrills and gets the audience singing along, from the first to the last song."I really like this format, because I have freedom in the repertoire. If I play a romantic song and see that the audience enjoys it, I add another one. But if I see that the audience wants to dance, I play a forró, so I can get everyone dancing", explains Geraldo Azevedo.



Avec une carrière de plus de 50 ans, le chanteur, auteur-compositeur et guitariste Geraldo Azevedo a sorti un certain nombre de tubes qui sont présents dans la mémoire affective de plusieurs générations. Accompagné de sa guitare virtuose, Geraldo Azevedo passe en revue ces cinq décennies de compositions, présentant ses premiers succès, tels que « Táxi Lunar » (Geraldo Azevedo, Alceu Valença et Zé Ramalho), « Bicho de Sete Cabeças » (Geraldo Azevedo, Zé Ramalho, et Renato Rocha), et « Caravana », avec des chansons de son nouveau travail avec Chico César, le spectacle « Violivoz ». En tant qu'excellent guitariste, chanteur et compositeur, Geraldo Azevedo a créé dans ses chansons un mélange unique entre les harmonies sophistiquées de la bossa-nova et les rythmes palpitants de la musique latine, avec une touche urbaine et d'autres icônes de la culture du nord-est qui chantent le folklore des terres brésiliennes. Dans cette tournée, Geraldo Azevedo présente un spectacle intime qui vous émeut et vous fait chanter avec lui, de la première à la dernière chanson. « J'aime beaucoup ce format, car j'ai la liberté du répertoire. Si je joue une chanson romantique et que je vois que le public l'apprécie, j'en joue rapidement une autre. Mais si je vois que le public veut danser, je joue une chanson de forró, pour que je puisse voir tout le monde danser », explique Geraldo Azevedo.



Casa da Música
Av. da Boavista 604-610, 4149-071 Porto - Porto, POR
Não se efectuam trocas ou devoluções nas vendas efectuadas no site. O preço dos bilhetes inclui IVA à taxa legal em vigor. Sobre os valores da transacção acresce o respectivo custo de operação mais IVA à taxa legal em vigor, consoante o evento escolhido. Os produtores são os responsáveis pelos conteúdos (textos, fotos e sons) dos respectivos eventos.


There are no exchanges or returns on sales made on the site. Ticket prices include IVA at the legal rate in force. The respective transaction cost plus IVA at the legal rate in force is added to the transaction values, depending on the chosen event. The producers are responsible for the contents (texts, photos and sounds) of the respective events.
---
By proceeding with the purchase you confirm that you have read and are in accordance with the terms of use.
Terms and Conditions